While Uber is an incredibly popular rideshare service both in the United States and around the world, many riders have suffered violent crimes at the hands of their Uber drivers. From sexual assault to physical battery, theft, and threats, many riders feel very unsafe while using this rideshare app – leading many people to avoid using Uber in the first place. To combat the risks to safety that its service poses to riders, Uber is testing new recording tools for riders who feel unsafe.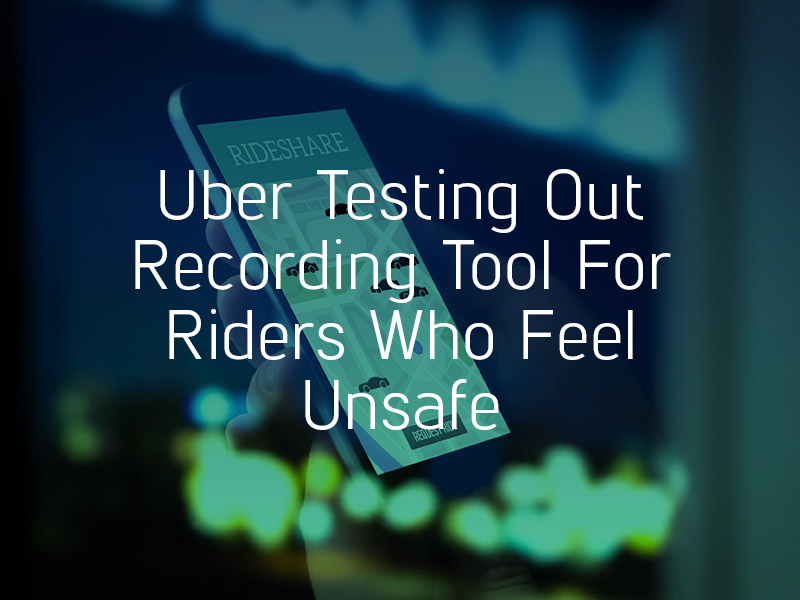 Uber's New Audio Recording Feature
Many people who use Uber have reported feeling unsafe in their rides. Some riders have even become the victim of violent crime while riding in an Uber, with drivers acting in an inappropriate manner, committing an act of sexual assault or harassment, or physically threatening or harming their riders. Because of these rates of violence, many people are critical of Uber's ability to keep their passengers safe on the road.
To combat this, the rideshare company is adding a new feature to their existing Safety Toolkit: an audio recording feature so that passengers can collect evidence of a dangerous driver and send it to Uber. If you ever feel unsafe while riding in one of these vehicles, you can launch the recording and preserve vital evidence that you can send to the company. It is unclear if you will have the ability to export the recording for use in a future court case, police report, or lawsuit.
The feature is in beta-testing as of late September 2019, and it is unsure if Uber is planning any improvements to the audio recording. This feature may prove valuable to assisting victims during the aftermath of a crime, but audio recording does not provide a solution for crime prevention. Many Uber drivers can have dangerous criminal backgrounds and pose a significant threat to riders.
Uber Safety Tips
Even if Uber is rolling out a new audio recording feature, crimes can still occur in their vehicles. To protect yourself from a dangerous situation, follow these tips whenever you use a rideshare app.
Before you get into a vehicle, verify that it is your ride with the information on the app. Check the license plate number, make, model, and color of the car. Make sure that the driver's picture matches his or her appearance in real life.
As often as you are able, do not ride an Uber or Lyft alone. Always bring a friend or family member with you for added protection.
Do not sit in the passenger seat. Instead, sit in the back. The driver has less access to you if you are not sitting right next to him or her, which can decrease the chances of assault.
Most Uber drivers have a rating of at least 4 stars, usually higher. If a driver has a rating of less than four stars, this may be a serious red flag. If you feel uneasy about a driver, cancel the ride and call for a new one.
Before you ride in an Uber, share the details of your trip with someone you trust. Uber's Safety Toolkit has this feature available so a loved one can track your ride and make sure you get to your destination safely.
If you are in an Uber and the driver is acting in a dangerous or threatening manner, calmly ask him or her to end the ride early and get out of the vehicle as soon as possible. If he or she refuses, call 911 or use a panic button mobile app.
As soon as you can after the incident occurs, report the driver to Uber. If the driver harmed you in some way, contact law enforcement and call your rideshare attorney as soon as you are able.
While the new audio recording feature may help riders preserve evidence of violent crimes, Uber drivers can still assault and harm their passengers. If you are the victim of a crime at the hands of an Uber driver, you have legal options available to bring him or her to justice. Contact a rideshare assault attorney to discuss your case and to begin taking civil and criminal action against the perpetrator.