Sexual assault is a heinous crime that can affect every aspect of a survivor's life, as well as the lives of his or her loved ones, including his or her parents. If you are a parent of a child who has experienced sexual assault, you understand how difficult it can be to seek help and understand what your child needs for his or her recovery. There are many resources available to parents who need assistance navigating the aftermath of sexual assault.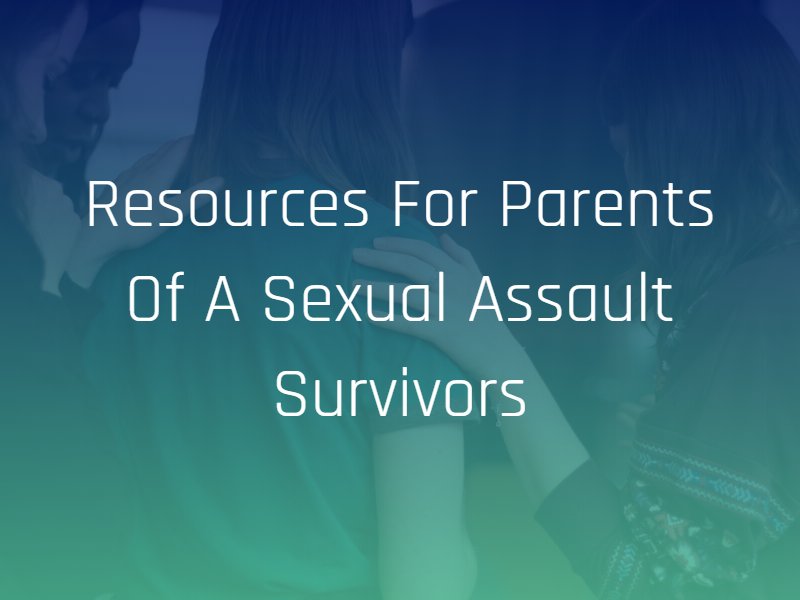 #1: Support Groups
The aftermath of sexual assault can be overwhelming for both you and your child. While you did not experience the assault, you may feel significant turmoil and anguish, and may even blame yourself for the assault. You may be unsure how to help your child through this difficult time, and what resources can aid in his or her recovery.
This is where support groups come in. Support groups are gatherings of people who share a similar experience, and many of these groups support parents of sexual violence survivors. Through these groups, members share their experiences and provide resources to each other, including coping mechanisms and pathways to healing.
You can find a support group for parents of survivors of sexual abuse in your area, online, or via teleconference.
#2: Therapy and Counseling
Mental health treatment is vital for survivors of sexual assault — according to the Rape, Abuse, and Incest National Network (RAINN), approximately 94% of women who are raped experience symptoms of post-traumatic stress disorder (PTSD) in the two weeks after the assault. If you enroll your child in a mental health treatment program to help him or her heal from the assault, you may benefit from seeking similar treatment as well.
You can speak to a counselor or therapist about your experiences, and he or she can help you navigate your emotions and how to approach the situation with your child. By simultaneously seeking mental health support with your child, you can lead by example, breaking the stigma and helping your child recognize that it is okay to seek help.
#3: Online Resources
If you want to understand more about what your child is going through and how to best support him or her during this time, there are numerous online resources you can read to learn more about sexual violence.
#4: Sexual Assault Attorneys
If your child is a survivor of sexual assault, it is important to practice kindness, patience, and understanding along each step of his or her pathway to justice. Your child has many legal options available to him or her, and speaking with a sexual assault attorney can help her understand the optimal pathway to take.
Hiring a sexual assault lawyer to help with your child's case can provide a number of benefits, including the following.
The criminal justice system can be overwhelming, especially for sexual assault survivors. Your attorney will have the experience necessary to guide your child through this process, helping him or her understand what to expect and how to prepare.
Sexual assault criminal cases usually require an in-depth investigation to recover evidence and find witnesses to testify. Your attorney will have the resources and network he or she can utilize to conduct a full-scale investigation.
Crafting a compelling case for a sexual assault trial is necessary to ensure that the survivor receives the justice he or she needs. Your attorney will have the knowledge and skill set necessary to represent your child's side of the story using effective case strategies.
If you have not done so already, speak to your child about visiting a sexual assault attorney with experience supporting survivors in the courtroom. If he or she is interested in learning more, contact a lawyer as soon as possible to discuss you and your child's legal options.