For many sexual assault survivors, seeking accountability through the criminal justice system can be a very difficult task. According to the Rape, Abuse, and Incest National Network (RAINN), only 9 out of every 1,000 sexual assaults will be referred to prosecutors, and only 5 out of every 1,000 assaults will end in a felony conviction.
This low conviction rate occurs for several reasons, from lack of evidence to strict state laws and high burdens of proof. In March 2021 in Minnesota, when the state's Supreme Court ruled that voluntarily intoxicated assault victims cannot pursue felony charges against their perpetrators.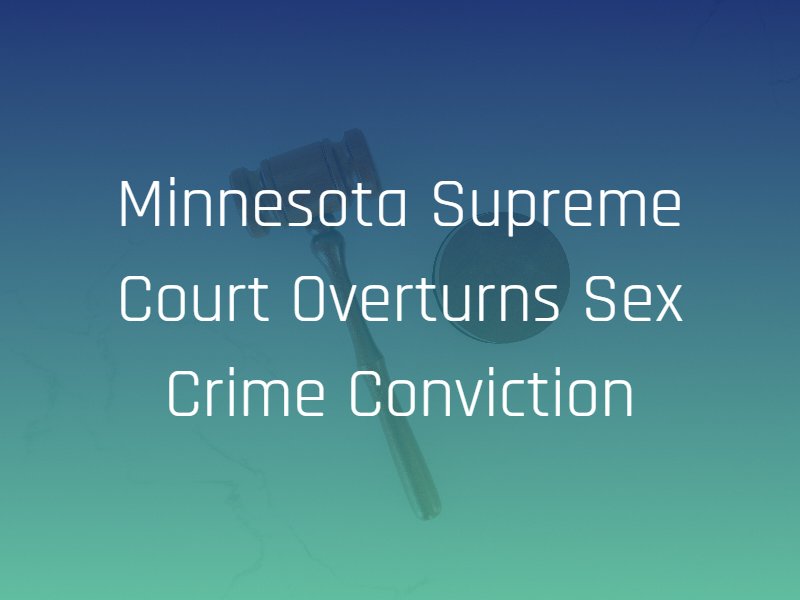 Minnesota's Sexual Assault Laws
Like all states, sexual assault and rape is illegal in Minnesota. However, there are different levels of sex crime convictions that a perpetrator can receive. These charges depend on the circumstances and severity of the crime.
First-degree sexual assault is a felony that involves sexual penetration or sexual contact with a person under 13. There are several circumstances that constitute a first-degree assault charge, including use of a dangerous weapon.
Second-degree sexual assault involves sexual contact, except for sexual penetration, under any of the circumstances applicable to a first-degree assault charge. It is also a felony crime.
Third-degree sexual assault involves sexual penetration under a series of specific circumstances, including force or coercion or the knowledge that the victim is mentally or physically incapacitated. This is also a felony crime.
Fourth-degree sexual assault involves any sexual contact, except for penetration, that occurs in the context of any of the situations applicable to third-degree assault. Fourth-degree assault is a felony crime.
Fifth-degree sexual assault is typically a gross misdemeanor that involves nonconsensual sexual contact.
Mental and physical incapacitation is a barrier to consent in Minnesota. This incapacitation may involve physical disability, a mental incapacity to understand the implications of sexual contact, and the use of alcohol or drugs. In Minnesota, however, alcohol or drug use is only a barrier to consent if the victim took the substances against his or her will.
The Minnesota Supreme Court Decision
In March 2021, the Minnesota Supreme Court overturned a third-degree felony sexual assault conviction for Francios Momolu Khalil, granting him a new trial in the process. The Minnesota Supreme Court ruled that Khalil cannot receive a third-degree felony conviction because his victim was voluntarily intoxicated prior to the assault.
In 2017, a young woman was drinking outside of a Minneapolis bar when Khalil invited her and a friend to a party at his home. The women agreed and later found out that there was no social gathering. The young woman fell asleep on Khalil's couch and later woke up to Khalil sexually assaulting her. After the assault, the women went to a hospital where the survivor received a forensic exam.
She reported the assault to Minneapolis police four days later and Khalil received a felony conviction for third-degree sexual assault in 2019. He had been incarcerated since his sentencing but had appealed the conviction to the Minnesota Supreme Court. After examining the case, the Supreme Court examined Minnesota's laws and determined that, since the victim voluntarily drank before the assault, Khalil could not face third-degree felony charges. He can only receive a fifth-degree assault conviction, which is a gross misdemeanor charge.
Seeking Help for Sexual Assault
The Minnesota Supreme Court decision will have major implications for sexual assault survivors in the state. Since many sexual assaults involve alcohol, advocates are working to expand definitions of incapacitation to include voluntary intoxication.
Survivors can choose to pursue criminal charges against their perpetrators, as well as compensation through a sexual assault lawsuit. If you are a sexual assault survivor, contact a sexual assault lawyer as soon as possible to discuss your legal options.