Riding in an Uber and Lyft carries risks for female passengers, but what about female drivers? Do women who drive for these companies put themselves at risk of assault?
Sadly, the answer is yes. From drunken riders to creepy, unwanted advances, female rideshare drivers encounter a fair amount of risks on the road. In fact, these disturbing encounters can often lead to sexual harassment, physical violence, and sexual assault.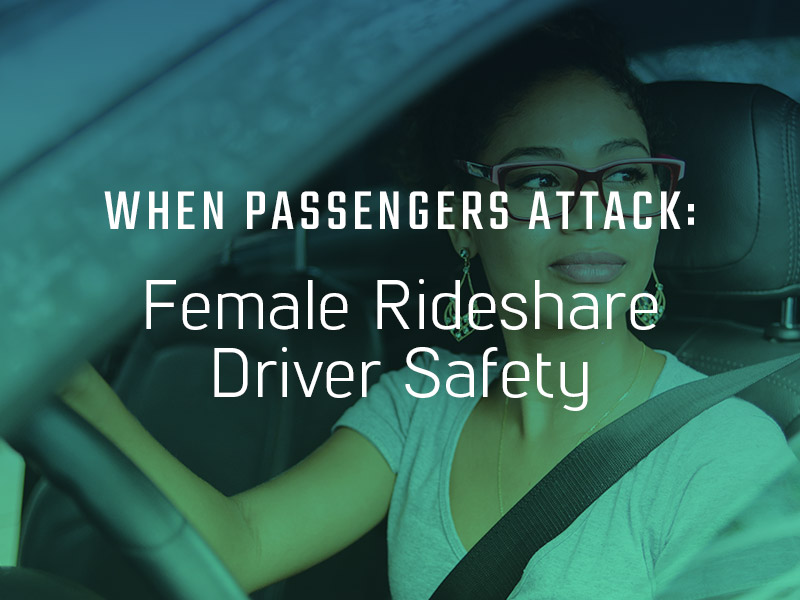 Sexual Harassment in Rideshares: A Serious Problem
While many people know the dangers of riding in an Uber or Lyft as a lone woman, we can forget that the same dangers apply to female drivers as well. These rideshare drivers tell harrowing stories of passengers asking them inappropriate questions, propositioning them, and acting in an aggressive or intimidating manner.
Many other female Uber and Lyft drivers report sexual assaults at the hands of these passengers – from inappropriate touching to physical violence. For some female drivers, they have to adopt protective behaviors to keep themselves safe while driving. Some drivers refuse to operate at night, while others inform family and friends of when they are driving and where they are going at all times.
Female Uber and Lyft drivers should not have to live in fear while on the clock – but sadly, these assaults do happen with alarming regularity. Uber and Lyft claim to support their drivers during these instances, but many rideshare operators tell a different story.
Do Uber and Lyft Respond to Violence Against Female Drivers?
While Uber and Lyft claim to have built-in mechanisms to respond to instances of assault and harassment, many drivers report receiving little support from these companies. The reality of reporting their assaults and receiving help is much different in practice than it is in the policy.
According to articles in Business Insider and The Guardian, many female Uber and Lyft drivers experience significant delays in assistance from the company. Even if the matter is urgent and violent, the companies often wait a long time to respond and do not adequately support the reporting drivers. Some drivers felt as if the companies never fully investigated the incidents and the only tangible action they took was to suspend the rider's account.
Uber's safety features include an integrated line to 911, an option for drivers to share their trips with trusted people, a critical safety response line, and 24/7 driver phone support – but some drivers report waiting days before receiving a response. Lyft has many similar features, but some drivers had to wait five days for someone to get in touch.
Safety Tips for Female Uber Drivers
Driving for Uber or Lyft as a woman can be nerve-wracking. If you are a rideshare driver, following these tips can help you stay safe.
Avoid driving at night or in the early morning. These times can be the most dangerous for female drivers. The safest times to drive are during morning rush hour or the afternoon rush hour since most passengers will be on their daily commute.
Tell your friends and family when you are driving and where you are driving. If your app allows, you can use the trip sharing feature to keep your trusted loved ones updated. That way, if something happens, you have an aware support system.
Avoid driving intoxicated people. Alcohol and drugs can lead to aggression and harassment. If you pick up a passenger after 11 pm, chances are he or she is using Uber or Lyft as a designated driver.
Pay attention to the passenger's rating. If he or she is below a 4.6, don't be afraid to cancel the trip.
No one deserves to become a victim of assault, especially while they are driving for Uber or Lyft. Unfortunately, these companies assume little responsibility for instances of assault and often leave their female drivers to cope with the aftermath themselves.
If you are the victim of an assault while driving for Uber or Lyft, a rideshare attorney can help. As soon as you receive medical attention for your injuries, contact a rideshare sexual assault lawyer to discuss what you can do next.