Sexual assault is a serious crime that has deep, long-lasting impacts on survivors. However, many institutions that govern sexual assault crimes can silence or discredit these victims – including the large rideshare company, Uber. For several years, the company used confidentiality agreements to silence victims of sexual assault. However, Uber decided to discontinue this policy in May 2018.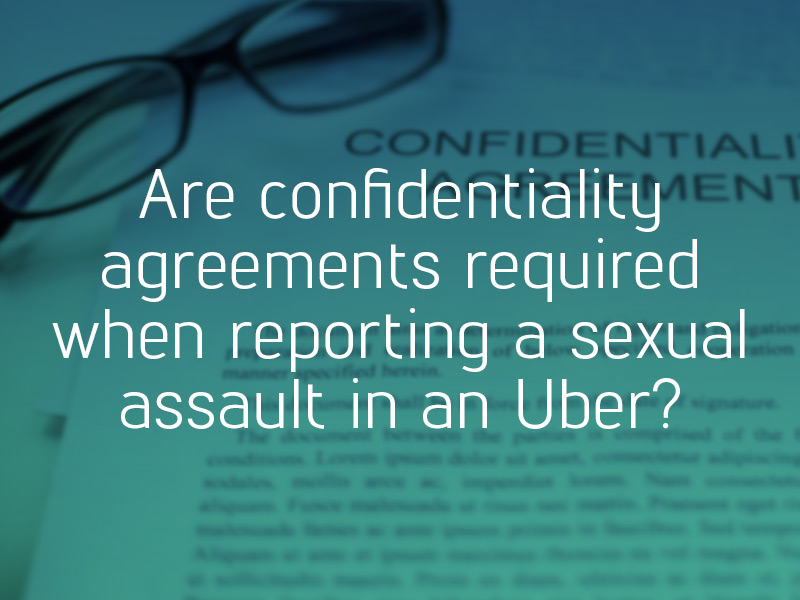 What Are Uber's Confidentiality Agreements?
Prior to Uber's 2018 announcement, people who used the rideshare service were subject to mandatory confidentiality agreements that essentially silenced victims of sexual assault. These agreements, known as mandatory arbitration, forced Uber riders, drivers, and employees to keep any sexual assault or harassment claims out of the courtroom. Instead, these individuals had to pursue their claims through an alternative dispute resolution process.
In addition, Uber also required anyone filing a sexual assault claim against the company to sign a non-disclosure agreement. As a result, victims could not speak about their experiences publicly. Survivors of sexual assault perpetrated by Uber drivers and affiliates could not choose how they pursued their claims.
Because these victims did not and could not pursue their claims in court, the company kept the knowledge of Uber's epidemic of sexual violence away from the eyes of the public. While Uber allowed employees and drivers to opt-out of arbitration agreements within 30-days, passengers did not receive that privilege.
New Changes to Uber's Sexual Assault Claims Process
Following increased controversy and heavy pressure from the public, Uber decided to make significant changes to its sexual assault process in May 2018. During that time, the company announced that it would end its practice of mandatory arbitration agreements. In addition, the company ended its non-disclosure agreement practices as well.
While Uber may frame this change as concern for its passengers and drivers, mounting political pressure contributed heavily to this decision. Several markets spoke out against Uber's lack of safety and the company even lost its license to operate in London, United Kingdom, due to concerns over sexual assault.
What Do These Changes Mean for Uber Passengers?
Uber's new sexual assault claims process may make the process of reporting easier for many consumers and employees. Victims of sexual assault can now pursue their claims through the courtroom, opening up new possibilities for reparations. In addition, they can speak freely about their experiences.
These changes mean that survivors can operate without fear – but they do little to prevent sexual assault in the first place. Uber drivers who commit sexual assault are not going to refrain from doing so, and the company still does little to support victims in their time of need. Passengers and drivers alike still need to take precautions to protect themselves from sexual violence.
What to Do If You Experience Sexual Assault in an Uber
Whether you are a driver or a passenger, sexual violence can still occur when you are in an Uber. The moments after a sexual assault can be terrifying and traumatic, but they are also the most crucial in pursuing a future claim.
Take these steps to protect yourself after an Uber-related sexual assault.
Contact law enforcement as soon as possible. Reporting to the police can greatly assist your case in the future.
Do not take a shower or go to the bathroom after the assault. Doing so can destroy evidence.
Seek medical attention at a local hospital. The medical staff can perform vital tests to collect evidence after the assault and save it for use in a future claim.
Seek psychological help as soon as possible. Visit a rape crisis center or other mental health professionals for treatment.
Report the assault to Uber or the rideshare company you were using at the time.
Contact a rideshare sexual assault attorney as soon as possible to discuss your case and potential legal action.
While Uber may have ceased its confidentiality agreement policy, the company still falls short when it comes to protecting victims of assault. If you have suffered a sexual assault while riding or driving in an Uber, you have legal options available to you. Contact a rideshare attorney as soon as possible to discuss your case.