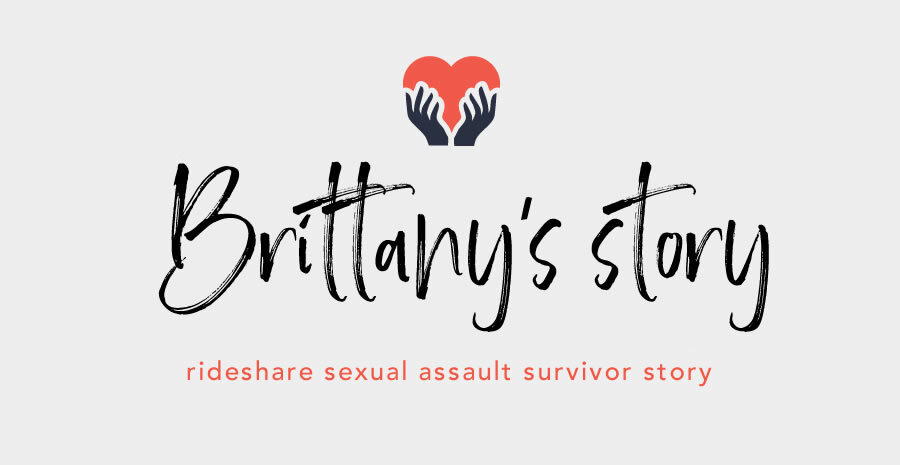 A Lyft safety officer dismissed a blind rape victim's complaint, telling her 'we'll cooperate with police if we need to'
Many disabled people are able to live independently but getting around can be challenging in a car-based society like ours. So, ride-hailing companies like Lyft can go a long way toward helping the disabled maintain their independence.
Unfortunately, Lyft's safety record demonstrates that the company isn't doing nearly enough to protect vulnerable passengers like 34-year-old Brittany, who is blind.
Brittany lives in Alabama. She called Lyft for a 3-minute ride to her neighborhood grocery store on the evening of Jan. 13, 2018.
"I wanted something sweet – pie and a coke," Brittany said. "The Lyft driver seemed pretty nice and we had a normal conversation. I had pre-ordered what I wanted, so I just had to pick it up at customer service."
The Lyft driver followed Brittany into the store and offered to escort her back to his car.
"I noticed that he parked really, really far away from the store, in a corner somewhere and I thought that was weird," she said. "Then I noticed that he wasn't online anymore."
The driver, whose first name is Christopher, took Brittany home and carried her groceries inside. Next, he started walking around her apartment, making her feel "really uncomfortable."
"I didn't know how to ask him to leave," she said. "Then he sat beside me on the couch and I started getting this weird vibe – I thought, 'Oh no, this is not going to be good. He grabbed my arm and led me to the bedroom. I sat on the bed and he started taking off my shoes and pants – he already had his pants down and then he started to rape me. In that moment it was fight, flight or freeze and I froze."
Brittany feared the driver had a weapon that he'd use to hurt her, so she just lay on the bed, not really knowing what else to do.
"He could have killed me and nobody would have known for a while," she said.
To this day, Brittany does not know if Christopher is still driving for Lyft because Lyft's safety officer refused to give her any information on his status.
"The Lyft safety officer apologized and said they'd cooperate with police if they 'need to' but he was really dismissive about it," she said.
Brittany would like to see Lyft hire female safety officers, who would likely be more sympathetic to a woman's pleas for help. That's one reason why she joined the Estey & Bomberger lawsuit that was filed against Lyft in December 2019: she's relying on the law firm to fight for much-needed changes to the ride-hailing industry.
"My story needs to be told because Christopher needs to pay for what he did and Lyft needs to be held responsible for what he did," Brittany said. "When the cops found Christopher he said the sex was consensual, so they didn't arrest him. I did not want to have sex with this man, it was traumatizing."
Brittany has been assigned an Estey & Bomberger victim advocate, Madison Anderson, who said that "it's common practice for rapists to say the sex was consensual and many cops buy it. Even if Brittany had done a rape exam it's likely the cops still would not have believed her – it happens all the time."
Madison works directly with sexual abuse clients like Brittany, offering emotional support and connecting them with services to help with their recovery. The advocates also keep victims up-to-date on lawsuit developments.
"I hope the lawsuit brings awareness, so people know they're not alone," Brittany said. "I want them to know if something happens to them they can speak up. I want them to be able to feel like somebody understands. Most importantly, I don't want to be silent anymore."
She went to say, "I came to Estey & Bomberger because I needed a voice and needed some sound advice as to what to do. The criminal justice system failed me, while Estey & Bomberger took the ball and just started rolling with it. It has been a good working relationship. I feel very supported, everyone on the team is genuine and you know they care. Mike (Bomberger) was super nice when I met him, so I didn't feel weird about it all. It has been an empowering experience."
Brittany is calling for Lyft to develop new regulations that "clearly outline their policy on sexual assaults and what they will do to drivers who assault passengers."
Her case stands as a clear example of why Lyft and Uber need to share information on predator-drivers. It turns out that Christopher was also an Uber driver, so even if he was booted from the Lyft platform he still poses a danger to female passengers.