April marks the 20th anniversary of Sexual Assault Awareness Month in the United States. Each year, survivors, activists, organizations, and allies participate in events designed to raise awareness of and prevent sexual violence. Although Sexual Assault Awareness Month may look different in 2021, there are multiple ways that you can show your support for the movement.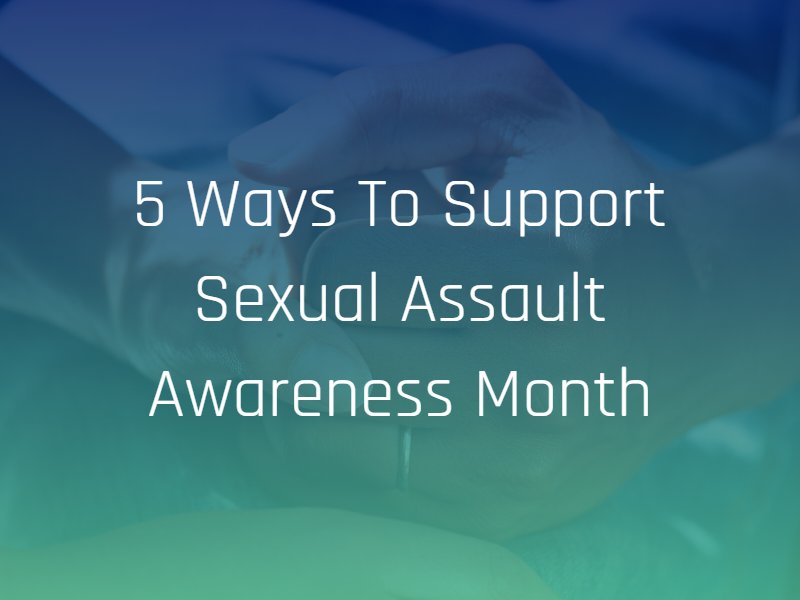 #1: Participate in an Event
There are many prevention and awareness events that take place throughout April. Due to the COVID-19 pandemic, many of these events are taking place online and through social media this year. The National Sexual Violence Resource Center (NSVRC), which facilitated the first national Sexual Assault Awareness Month in 2001, has a list of virtual events that you can attend throughout the month. These events include workshops on consent and boundaries, self-care activities, and information on healthy sexual relationships and responding to volatile situations.
#2: Volunteer or Donate to an Organization
In addition to participating in Sexual Assault Awareness Month events, you can also volunteer with an advocacy organization. You can volunteer at a local rape crisis center or organization that serves individuals who have experienced sexual violence. These centers often train volunteers to answer hotline calls, attend forensic exams or medical appointments with survivors, or keep domestic violence shelters safe and clean.
If you do not have the capacity or ability to volunteer, you can support in other ways. You can make a donation to local shelters, advocacy organizations, and crisis centers. To increase awareness and spread their messages, you can also follow these organizations on social media and share messages of support.
#3: Support Survivors
One of the most important actions you can take during Sexual Assault Awareness Month is to support survivors, especially survivors in your own community. Share information about sexual violence, self-care activities, and local resources on social media to help connect survivors in your area to the support they need.
If a survivor comes to you with his or her story, listen carefully and offer your full support. Avoid asking unnecessary or invasive questions, expressing disbelief about the survivor's story, or dismissing his or her experience. Instead, ask the survivor how you can help and take steps to connect him or her to local resources.
#4: Become a Social Media Advocate
In the age of social media, many sexual assault prevention and awareness campaigns are taking place online. There are many ways that you can use your social media channels to spread awareness, learn about sexual violence, and show your support for survivors.
Follow sexual assault advocacy organizations and local resource centers on social media.
Share posts and campaigns from organizations, survivors, and activists.
Change your profile picture to an image in support of Sexual Assault Awareness Month.
Wear teal, the official color of Sexual Assault Awareness Month, and post a picture to social media.
If you see any victim-blaming comments on social media, you can take action. Although these comments may seem unimportant, they ultimately contribute to normalizing sexual violence and can be harmful for survivors. Responding with something as simple as "rape is never the victim's fault" and refocusing the blame on the perpetrator can help.
This Sexual Assault Awareness Month, focus on supporting survivors and raising awareness to end the epidemic of sexual violence. If you or a loved one have experienced sexual assault, there are many resources available to help you seek justice. After seeking immediate help following the assault, contact a sexual assault attorney to discuss your legal options.