Sexual assault survivors need significant support to heal from their trauma and seek justice against the perpetrators of sexual violence. Sexual assault victim advocacy groups and services are organizations composed of volunteers dedicated to supporting survivors and connecting them to the resources they need.
If you are interested in joining an advocacy group in your area, look for the following opportunities near you.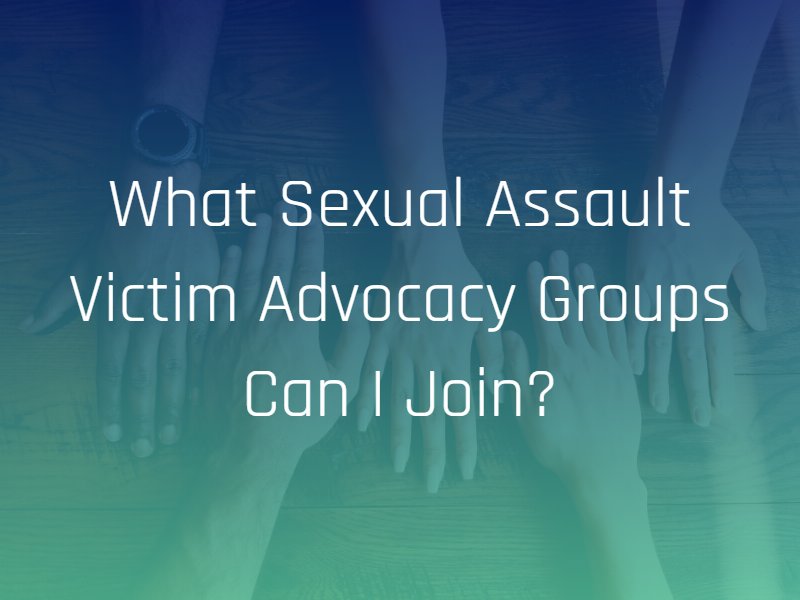 Crisis Counseling Hotlines
One way you can support sexual assault survivors is by volunteering with a sexual assault response or crisis counseling hotline in your local area. By joining these groups, the organization will provide training to you on how to respond to survivors in crisis, connecting survivors with the resources and support they need to seek assistance following the assault. Since crisis hotlines need to be available 24 hours a day, 7 days a week, these organizations are always looking for volunteers to help.
Accompaniment and Support Organizations
Sexual assault survivors may need to attend different meetings, examinations, or other face-to-face encounters that can be very difficult to handle alone. Some sexual assault advocacy groups offer services that allow a survivor to bring a victim's advocate with him or her to the hospital and other meetings related to the assault. In this role, your main responsibility is to provide emotional support and help the survivor in his or her decision-making.
Community Outreach
Many survivors refrain from seeking help following a sexual assault because they are unaware of the resources available to them. Community outreach volunteers represent sexual assault victim's advocacy organizations in their local areas, whether that be working a booth at a local health or volunteer fair, or working with the community to foster awareness about sexual assault. In this role, you can help provide your community with the resources they need to seek help following an act of sexual violence.
Shelter Volunteering
Many sexual assault survivors also experience domestic abuse, and may need to go to a shelter to escape this violence. Shelters are always in need of volunteers, whether it be helping clean and maintain the building or leading group activities.
Shelters also have limited staff members on hand, and volunteers can help support the upkeep of the shelter so staff can focus on providing specialized services to survivors. If you are interested in volunteering at your local domestic violence shelter, contact the organization directly to inquire about opportunities.
Sexual Assault Response Teams
Sexual assault response teams (SARTs) are teams composed of specialized individuals, including law enforcement officers, forensic nurse examiners, and victims' advocates. These individuals provide in-person crisis response in emergency situations involving sexual assault.
Victims' advocates are crucial to the success of a SART, since the survivor may feel overwhelmed and unsure how to respond in an emergency situation. Your local organization will train you on how to respond to survivors' needs so you can provide this necessary emotional support.
Supporting sexual assault survivors and working actively to end sexual violence are steps we should all take to create a more equitable and safer world. Joining a sexual assault victim advocacy group is only one way we can help.
If you or someone you know is the victim of sexual assault and wish to seek justice against a perpetrator, contact a sexual assault attorney with experience advocating for survivor's rights as soon as possible. Your sexual assault attorney can help you or your loved one understand your legal options and take the first steps toward justice.