When you use a rideshare service like Uber or Lyft, it is important to stay safe. Thousands of violent crimes occur in connection to these ridesharing services each year. To keep riders safe, Uber and Lyft require drivers to place their decals in specific locations so that passengers can easily identify the vehicle before they enter. If you are riding in an Uber or a Lyft on a regular basis, it is important to know which details to verify so that you can stay safe.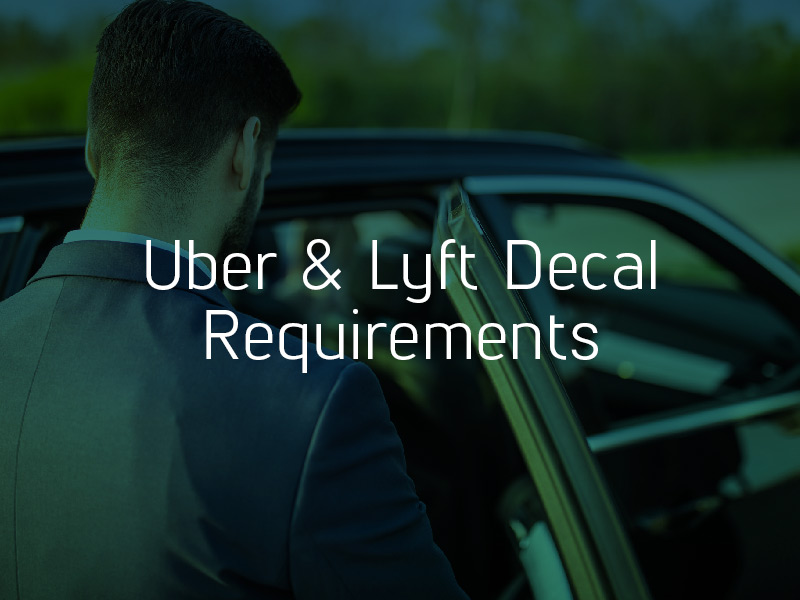 Where Should Uber and Lyft Decals Be?
On every Uber or Lyft vehicle you ride in, the driver should have company decals on certain areas of the vehicle. Regulations for Uber and Lyft decals can vary based on the city or state you are riding in, but the general requirements are as follows.
Lyft drivers must place their Lyft emblem in a clear, transparent sleeve on the inside of their windshield. They should place the emblem on the bottom-right corner of their windshield.
Uber drivers must comply with state and local laws in regard to decal requirements. Generally, Uber drivers will have a decal on their front passenger windshield.
Some states require additional decals and visible paperwork. To understand the decal requirements that Uber or Lyft drivers in your area are subject to, check your city and state requirements.
The Importance of Uber and Lyft Decals
Uber and Lyft decals are incredibly important for rider safety since they allow you to easily identify an Uber or Lyft vehicle when it approaches. Once you identify your ride, you can verify that the vehicle's details match the details in your app, and rest assured that you are entering your actual ride.
There have been situations where passengers have entered a vehicle with a driver posing as an Uber or Lyft. The most high-profile of these cases is the murder of the University of South Carolina student Samantha Josephson, who entered a vehicle believing it was her Uber in March 2019. Samantha was waiting for her Uber outside of a bar in Columbia, South Carolina, and mistakenly entered the wrong vehicle. The driver, Nathaniel Rowland, is currently facing charges for her murder and kidnapping.
Tips for Staying Safe When Taking an Uber or Lyft
While Uber and Lyft decals are available to help you easily identify your ride, they are not a guarantee for passenger safety. Some drivers may make counterfeit decals, or drivers who these platforms previously suspended may retain or copy their vehicle decals. In these situations, it is important to stay vigilant and to follow these safety tips before you enter an Uber or Lyft.
When you page an Uber or Lyft to your location, the app will give you the details of your ride. This will include the license plate number and the make and model of the vehicle. Before you enter the vehicle, verify that these details match what it says in your app.
Do not give the Uber or Lyft driver your name until he or she confirms your ride. When approaching the driver, you can ask who he or she is picking up. The driver will know your name and details because his or her Uber or Lyft app will display them. If he or she does not know your name, do not get into the car.
The app will also display the driver's name and his or her picture. While many people may look different from their pictures, significant differences are a red flag. If the driver looks like a completely different person from his or her app picture, do not get into the vehicle.
If you are using a rideshare service like Uber or Lyft, it is important to verify the details of your ride before you get into the vehicle. Check for the decals, read the license plate, and make sure that the driver's picture matches the app. If you experience an act of violence when riding in an Uber or Lyft, contact your rideshare assault lawyer as soon as possible.