When we use a rideshare app like Uber or Lyft, we place a large amount of faith in the process, from pickup to drop-off. The pickup process can be especially risky; we can get into the wrong vehicle, experience an accident if we get into the car in an unsafe area, or fail to share our ride details with a trusted friend or family member. There are safer places than others to get into your Uber or Lyft.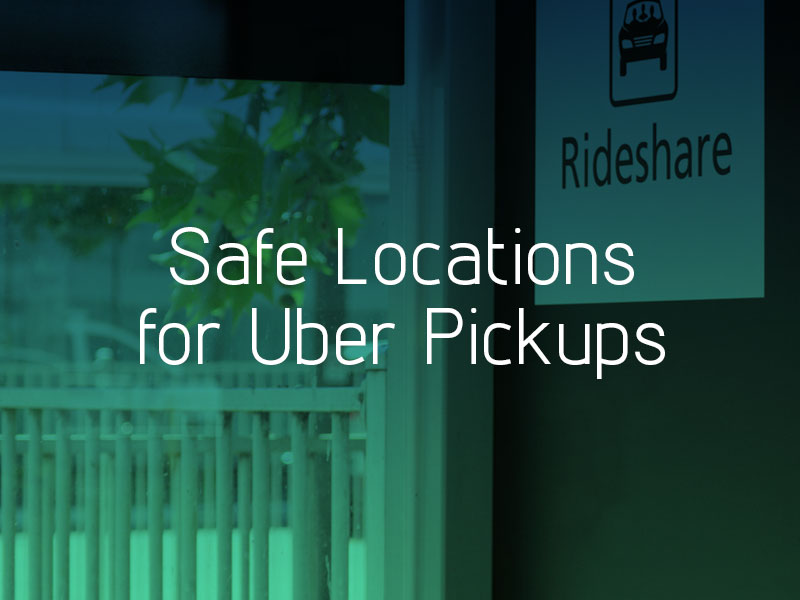 Where Should You Call an Uber or Lyft?
Whether you are trying to get home after a night out with friends or you are attempting to get from an unfamiliar airport to your hotel, it is important to pay attention to where you are getting into your rideshare vehicle.
If you are at an airport, hotel, or other tourist hotspots, some facilities have designated Uber or Lyft pick up zones. Before you call your ride, ask if a waiting area is available and head in that direction. You will likely be with other passengers in a place safe from unruly traffic, and it is easier to verify the details of your ride in these less-stressful areas.
In situations where a designated pickup spot is not available, make sure that you call your Uber or Lyft to a safe, well-lit, preferably public location or recognizable landmark. Ensure that there is a place where you can enter the vehicle without putting yourself in danger of oncoming traffic.
If you are calling your ride at night or in an area that isn't very public, bring someone outside to ride or wait with you. If you have to wait alone, try to stay inside the building until the driver arrives or is very close to your location.
Uber's Pickup Spots
In some situations, calling an Uber to your location can be complicated due to busy streets, complexes with multiple points of entry, and other unrecognizable locations. To combat this, Uber automatically sets your pick-up at a safe and accessible location when you request a ride. You can choose to change your pick-up location if you wish, and the app will automatically block you from setting your pick-up in an illegal or unsafe area.
Uber and Lyft Safety Tips
Meeting your Uber or Lyft driver in a safe, public, and well-lit place can help you identify if you are getting into the correct vehicle. However, your actual driver could still pose a danger to you inside of the car. If you feel unsafe in your rideshare vehicle, follow these tips.
• Before you get into the vehicle, always verify the details of your ride. Both Uber and Lyft tell you the driver's name and his or her vehicle make, model, and license plate number. Verify this information when the driver arrives, and only get into the vehicle if everything matches the details in the app.
• For additional security measures, you can ask the driver who he or she is there to pick up. Often, the driver will verify your name when you get into the vehicle, but you can also ask him or her before you get into the car.
• Uber and Lyft both offer you the option to share your ride details with a trusted friend or family member. The person you share your trip details with will see who you are riding with and your estimated time of arrival for additional security.
• If you feel uncomfortable or unsafe at any point during the ride, do not be afraid to exit the vehicle early. Ask the driver to pull over at a public place, like a busy gas station, grocery store, or shopping center, and end your ride early.
If you suffered an injury or an act of violence while riding in an Uber or Lyft, you are not alone. Many passengers have experienced assault, harassment, and other dangerous situations while riding in a rideshare vehicle – and depending on the circumstances of the incident, you may be eligible for financial compensation. Contact an Uber and Lyft assault attorney to discuss your rideshare lawsuit and to begin the filing process.