It is Uber and Lyft's responsibility to ensure that the people who use their rideshare services are safe and secure on every ride. To do this, these companies claim to screen all of their drivers prior to hiring them – but these background checks have significant holes. While Uber and Lyft may lead their consumers to believe that they fully screen their drivers, many people with dangerous criminal backgrounds drive for these companies every day.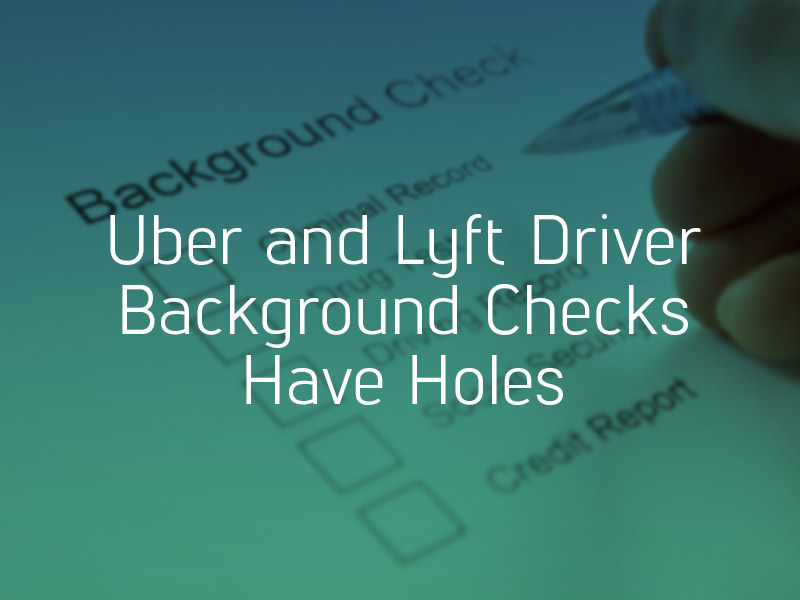 Dangerous Rideshare Drivers on Eugene, OR Roads
In September 2019, a local newspaper in Eugene, Oregon reported that Uber and Lyft drivers with serious criminal records were operating in the Eugene-Springfield area. According to the article, approximately 24 drivers with serious criminal records passed Uber and Lyft background checks and served passengers in the area.
One of these drivers was a registered sex offender, while another was a convicted murderer. Others faced arrests for other misdemeanors and even felony charges, including drivers who committed crimes that define them as public safety risks. Four drivers even had open court cases against them – including one felony case.
While these drivers did pass Uber and Lyft's third-party background checks, they failed the local check that the Eugene Police Department conducted after they were already on the road. Approximately 1,800 Uber and Lyft drivers operate in the Eugene area currently, and the fact that they failed these local checks signifies that these companies do not have an adequately strict vetting process.
Failing to keep dangerous drivers off of rideshare apps puts passengers at risk of physical violence, sexual assault, and other crimes. The third-party services that Uber and Lyft rely on to screen their drivers can commit a grievous error that could very well put someone's life in danger.
What to Do If You Feel Unsafe in an Uber
Because Uber and Lyft background checks can allow drivers with dangerous records to be behind the wheel, it is important to stay safe and vigilant whenever you use these rideshare services. Follow these tips to stay safe during your ride and to protect yourself if you are in a dangerous situation.
Share your trip details with a trusted friend or family member. Uber and Lyft have features in the app for you to accomplish this task, or you can take a screenshot and send the details directly. This will alert someone if you do not arrive at your destination when you are supposed to.
Sit in the backseat whenever you ride in an Uber or Lyft. A driver has less access to you physically if you sit in the back as opposed to the passenger seat.
If the driver makes you feel uncomfortable during the ride, calmly ask him or her to pull over in a safe, public place and let you out of the vehicle. If you feel as if you need an excuse to end the ride early, tell the driver that your plans changed and you have to meet someone at this location.
If you are in a dangerous situation in the vehicle, you can call 911 from the Uber or Lyft app directly using the built-in emergency buttons. In some areas, the app will share your trip details with the dispatcher directly so you can alert emergency services immediately.
Pay attention to driver ratings and always rate your driver. If a driver has less than 4 stars, cancel the ride and call another vehicle. If a driver makes you feel unsafe, do not hesitate to give him or her a low rating and to report the incident to Uber or Lyft.
Uber and Lyft must implement stricter background checks to keep drivers with serious criminal records off of the roads and to keep all passengers safe. If you are the victim of violence or injury at the hands of a dangerous Uber or Lyft driver, you can hold him or her accountable through a personal injury lawsuit or criminal charges. Contact a rideshare attorney as soon as possible to discuss your options for justice.