For women, traveling alone can be an exciting experience—but it can also be very risky. Women traveling without a partner may be vulnerable to sexual assault, theft, and other violent acts. Whether you plan to visit a new location or are going home to visit friends and family, it is important to stay vigilant, be smart, and take steps to protect yourself during your travels.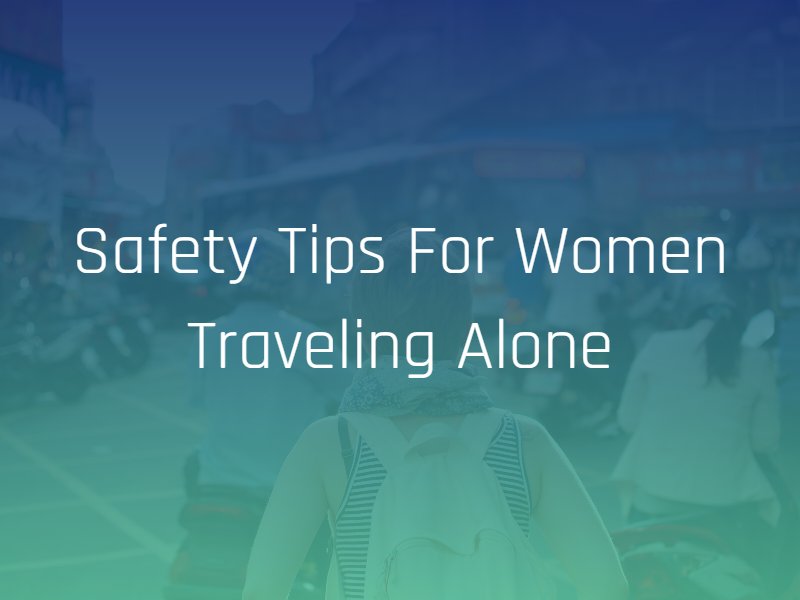 #1: Arrive During the Day
While it may be tempting to purchase a late night flight, arriving in a new location during these hours can be dangerous. When purchasing your tickets, aim to arrive during the middle of the day when more people are around. Arriving earlier in the day also makes it easier to find your accommodations.
#2: Have a Backup Plan
If someone steals your personal belongings, you do not want to be in an unfamiliar place with no money or paperwork. Plan ahead by creating a backup plan in case you are the victim of a violent crime.
Scan a copy of your passport, credit cards, and other important documents before your trip. Store them in a safe electronic location so you can access them.
Bring cash and hide it in an inconspicuous location, such as inside of an old pill bottle, and keep it inside of your hotel room.
Identify a trusted friend or family member who can be your emergency contact in case something happens during your trip.
#3: Bring Safety Equipment
Before traveling alone, equip yourself with physical and digital safety tools. If possible, bring a personal alarm, safety whistle, and anti-theft bags or clothing. You may also want to bring equipment such as pepper spray but travel and country restrictions may prevent you from packing these items in your luggage. Instead, purchase this equipment when you reach your destination and dispose or donate it before you leave.
There are many mobile apps on the market that provide safety services to users. Some apps include a panic button that alerts law enforcement to your location, while others act as a personal alarm to frighten potential attackers off. If you are traveling internationally, look for digital tools compatible with the country's emergency services system.
#4: Be Smart with Rideshare Apps
Rideshare apps like Uber or Lyft are accessible and affordable travel options, especially when traveling to a new location. However, rideshare drivers or people posing as rideshare drivers can harm passengers, including women who are alone. Take the following steps to stay safe while using a rideshare vehicle.
Always verify the driver's vehicle, photograph, and license plate number with the information on the rideshare app. Do not get into the vehicle if this information is inaccurate.
Use trip-sharing features to keep friends and family updated while you ride. Check in with a trusted loved one before and after every Uber or Lyft ride you take.
Do not admit to the rideshare driver that you are traveling alone. Say that you are meeting a friend or family member at your end destination.
Always wait for your ride in a safe, secure, and well-lit location. If you are unable to meet your driver in a safe place, wait inside until he or she arrives.
While these tips can help you stay safe while traveling alone, sexual violence may still occur, especially in a rideshare vehicle. If you are a survivor of sexual assault, seek help by calling 911 or emergency services in the area you are traveling. Save all pieces of evidence and seek a forensic medical exam if possible. After receiving immediate help, contact a sexual assault attorney to discuss your next steps.